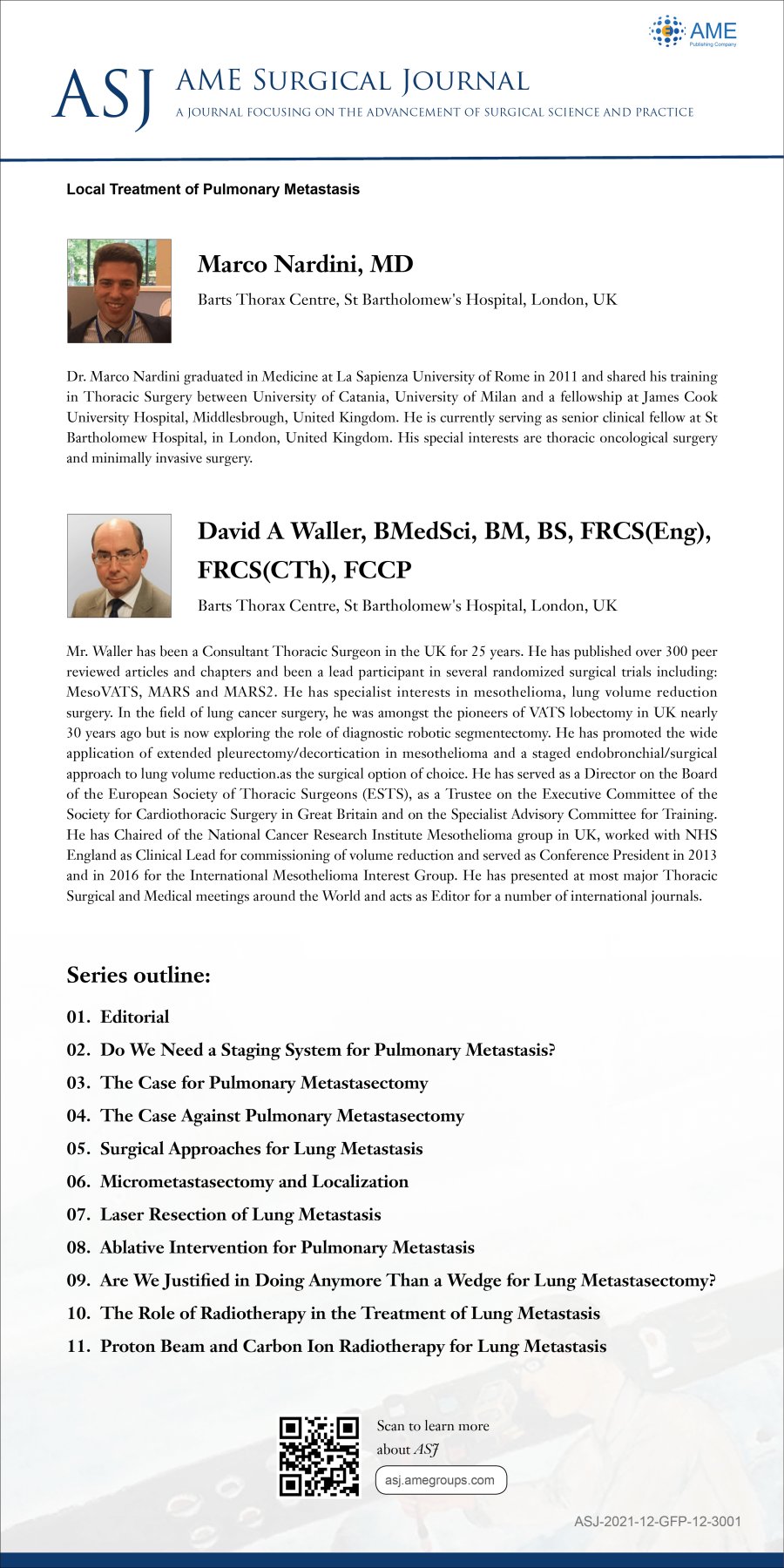 This special series on Local Treatment of Pulmonary Metastasis is co-edited by Dr. Marco Nardini and Dr. David A Waller, from Barts Thorax Centre, St Bartholomew's Hospital, London, UK.
Marco Nardini, MD
Barts Thorax Centre, St Bartholomew's Hospital, London, UK
Dr. Marco Nardini graduated in Medicine at La Sapienza University of Rome in 2011 and shared his training in Thoracic Surgery between University of Catania, University of Milan and a fellowship at James Cook University Hospital, Middlesbrough, United Kingdom. He is currently serving as senior clinical fellow at St Bartholomew Hospital, in London, United Kingdom. His special interests are thoracic oncological surgery and minimally invasive surgery.
David A Waller, BMedSci, BM, BS, FRCS(Eng), FRCS(CTh), FCCP
Barts Thorax Centre, St Bartholomew's Hospital, London, UK
Mr. Waller has been a Consultant Thoracic Surgeon in the UK for 25 years. He has published over 300 peer reviewed articles and chapters and been a lead participant in several randomized surgical trials including: MesoVATS, MARS and MARS2. He has specialist interests in mesothelioma, lung volume reduction surgery. In the field of lung cancer surgery, he was amongst the pioneers of VATS lobectomy in UK nearly 30 years ago but is now exploring the role of diagnostic robotic segmentectomy. He has promoted the wide application of extended pleurectomy/decortication in mesothelioma and a staged endobronchial/surgical approach to lung volume reduction.as the surgical option of choice. He has served as a Director on the Board of the European Society of Thoracic Surgeons (ESTS), as a Trustee on the Executive Committee of the Society for Cardiothoracic Surgery in Great Britain and on the Specialist Advisory Committee for Training. He has Chaired of the National Cancer Research Institute Mesothelioma group in UK, worked with NHS England as Clinical Lead for commissioning of volume reduction and served as Conference President in 2013 and in 2016 for the International Mesothelioma Interest Group. He has presented at most major Thoracic Surgical and Medical meetings around the World and acts as Editor for a number of international journals.
Series outline:
Editorial
Do We Need a Staging System for Pulmonary Metastasis?
The Case for Pulmonary Metastasectomy
The Case Against Pulmonary Metastasectomy
Surgical Approaches for Lung Metastasis
Micrometastasectomy and Localization
Laser Resection of Lung Metastasis
Ablative Intervention for Pulmonary Metastasis
Are We Justified in Doing Anymore Than a Wedge for Lung Metastasectomy?
The Role of Radiotherapy in the Treatment of Lung Metastasis
Proton Beam and Carbon Ion Radiotherapy for Lung Metastasis
Disclosure:
The series "Local Treatment of Pulmonary Metastasis" was commissioned by the editorial office, AME Surgical Journal without any sponsorship or funding. Marco Nardini and David A Waller are serving as the unpaid Guest Editors for the series.