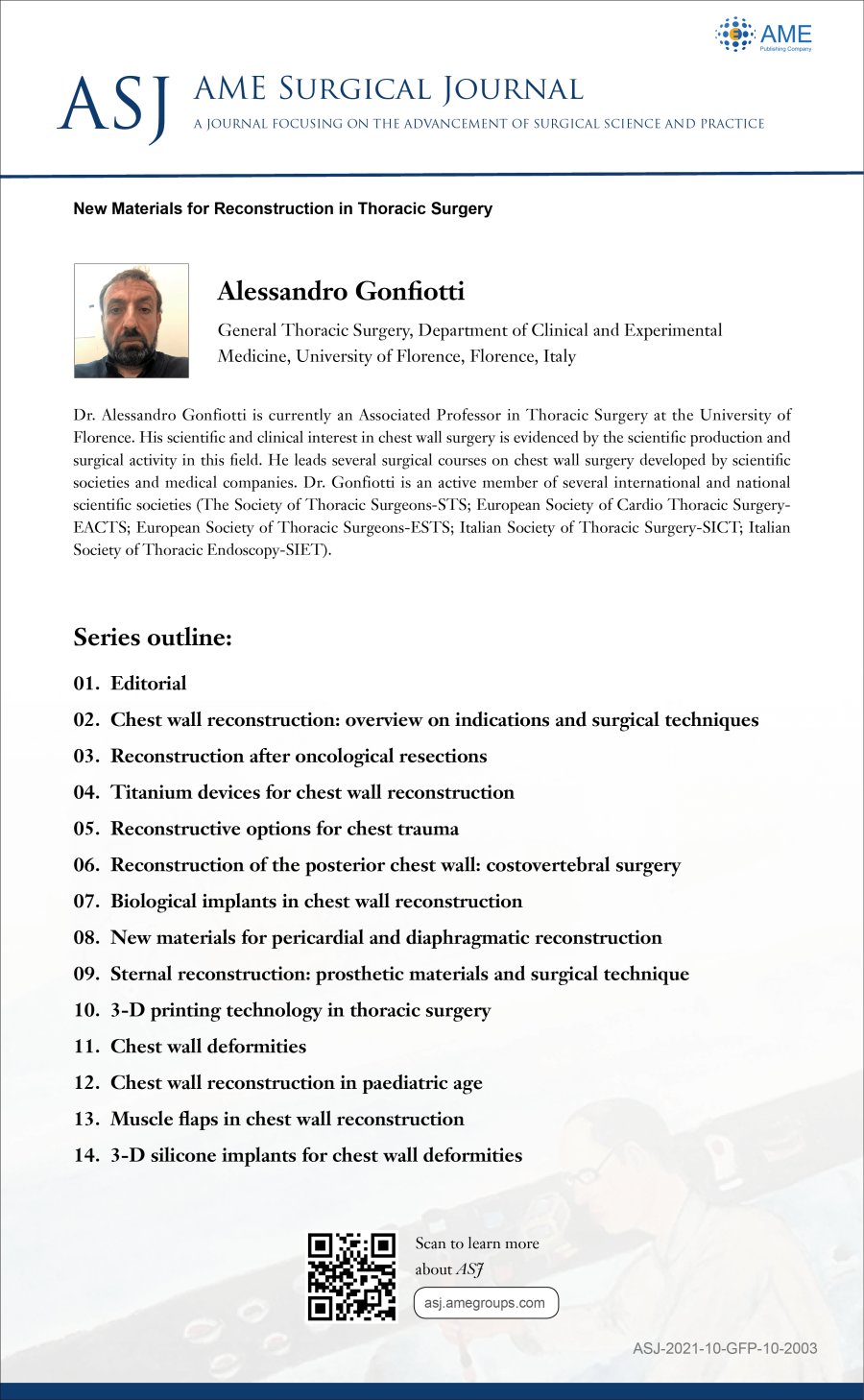 This special series on New Materials for Reconstruction in Thoracic Surgery is edited by Dr. Alessandro Gonfiotti, from University of Florence, Florence, Italy.
Alessandro Gonfiotti
General Thoracic Surgery, Department of Clinical and Experimental Medicine, University of Florence, Florence, Italy
Dr. Alessandro Gonfiotti is currently an Associated Professor in Thoracic Surgery at the University of Florence. His scientific and clinical interest in chest wall surgery is evidenced by the scientific production and surgical activity in this field. He leads several surgical courses on chest wall surgery developed by scientific societies and medical companies. Dr. Gonfiotti is an active member of several international and national scientific societies (The Society of Thoracic Surgeons-STS; European Society of Cardio Thoracic Surgery-EACTS; European Society of Thoracic Surgeons-ESTS; Italian Society of Thoracic Surgery-SICT; Italian Society of Thoracic Endoscopy-SIET).

Series outline:
Editorial
Chest wall reconstruction: overview on indications and surgical techniques
Reconstruction after oncological resections
Titanium devices for chest wall reconstruction
Reconstructive options for chest trauma
Reconstruction of the posterior chest wall: costovertebral surgery
Biological implants in chest wall reconstruction
New materials for pericardial and diaphragmatic reconstruction
Sternal reconstruction: prosthetic materials and surgical technique
3-D printing technology in thoracic surgery
Chest wall deformities
Chest wall reconstruction in paediatric age
Muscle flaps in chest wall reconstruction
3-D silicone implants for chest wall deformities
Disclosure:
The series "New Materials for Reconstruction in Thoracic Surgery" was commissioned by the editorial office, AME Surgical Journal without any sponsorship or funding. Alessandro Gonfiotti is serving as the unpaid Guest Editor for the series.